Mood:

accomplished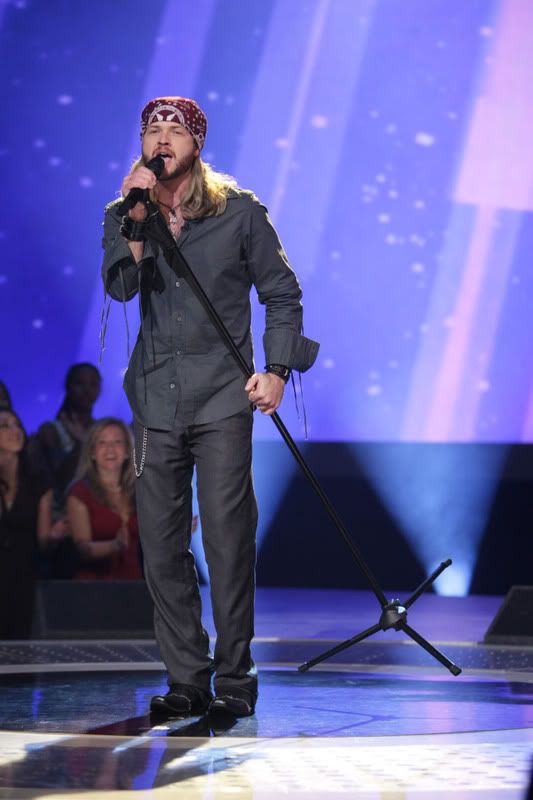 (
yay, more!
Collapse
)
Can someone with more skills than me (see current icon) make some pretty Robbie icons? Pleaseeeeeeee. :)
Some Robbie pictures from his Top 24 performance:




'Idol' thoughts

Well, I thought our guy Robbie Carrico did great Tuesday night in the first voter-driven round of this season's "American Idol."

He got kudos from all three judges, including Simon! who said he was the best performance of the night. (Of course, Simon went on to tell three dudes who performed after Robbie that they were the best of the night, so I'm taking that to mean Robbie was in Simon's Top 4.)

If you're following Robbie and this season's "Idol," check out our

Robbie Carrico fan page.

You'll find a

forum

there to discuss Robbie's performance and to tell us what you think about his competition.

You can also check out a gallery of photos from Tuesday's show on the

"Idol" Web site.

Simon questioned Paula's statement that Robbie is "authentic," suggesting that he might still be a boy-bander posing as a rocker. Robbie tells us he's all rock these days. Guess we'll have to see....

posted by Suzy Leonard at 9:39 AM
I don't have time to thoroughly look at the
Fan Page
right now but it looks pretty in depth!
Another article from Florida Today:
Robbie's Top 24 performance:
1.866.IDOLS.05
Mood:

anxious
Source
.
Parents sing praises of local 'Idol' finalist
Stayin' alive. Robbie Carrico of Melbourne was named one of 24 finalists during Wednesday's "Amercan Idol" on Fox. FLORIDA TODAY file
Had his mother, Dianna, not called him in the Florida Keys just before the "American Idol" auditions were held in Miami, chances are Robbie Carrico of Melbourne wouldn't be among the Top 24 finalists.
He was painting with his father, Robbie Carrico Sr. of Cocoa, "when my mother called and said the 'American Idol' auditions were being held the next day or something," said Carrico from Hollywood, CA. "I was like, hmmm, since I'm this close to Miami, why not?"
Viewers learned he had been named one of the 24 finalists during Wednesday's show on Fox.
Carrico, whose style of singing leans toward rock, said what made him decide to go for it was knowing how well the competition worked out for past contestant rockers such as Chris Daughtry.
(
rest of the article
Collapse
)
Another article - I quite like this one. It tells us more about Robbie as a person. :)
Source
.
Robbie Carrico. Melbourne rocker is one of the 24 finalists.
WEST MELBOURNE - Melbourne rocker Robbie Carrico is one of the top 24 finalists in this year's "American Idol" on Fox.
A small but boisterous crowd of fans showed up to cheer on their homeboy Wednesday night at West Melbourne's Metro Entertainment Complex which televises the show on one of its big screens Tuesdays and Wednesdays.
The crowd cheered when judges announced 26-year-old Carrico made the cut, but a few faint boos could be heard following judge Simon Cowell's assessment that the decision "was not unanimous."
But Cowell was joking.
Most in the crowed seemed unsurprised that Carrico made the cut.
(
rest of the article
Collapse
)
---
I have to type up the other one because I couldn't find it online. :)
Robbie is from my hometown and he has been all over the local newspapers, so I've been saving some of the articles on him. :D
Mood:

content
Mood:

creative

Music:

Kylie Minogue "Naked"
Apple announced today that they have partnered with Fox Broadcasting Company to provide performances from Season 7 of the American Idol show on iTunes one day after airing:
"We've created a special section on the iTunes Store for 'Idol' fans with an incredible array of music and video performances from television's most popular show," said Eddy Cue, Apple's vice president of iTunes. "We think 'American Idol' viewers are going to love the ability to purchase and download 'Idol' performances from iTunes."

Music will be available for $.99 and video for $1.99. American Idol is a popular U.S. television singing competition reality series.
--
macrumors.com
Mood:

bored

Music:

Rihanna "Breakin' Dishes"